Sidelight Window Treatments In San Diego
Sidelights are the tall, slim windows on either side of your front door. They brighten up your entryway, give you a view of your front porch, and add a lovely decorative embellishment for your house. But when uncovered, they can also give an unwanted view into your home. Thankfully, Sunburst offers the ideal answer with our custom-made sidelight window shutters in San Diego.
Sidelight Window Shutters In San Diego Are The Ideal Option
No solution works better for your home's entryway than Sunburst's sidelight window shutters. They'll provide the privacy you want with the added benefits of exceptional light management, durability, and distinctive appeal. Whether you choose our best-selling Polywood or stained real wood, an interior shutter perfectly blends in with your front door, trim, and decor.
Front Door Sidelight Window Shutters Give You Improved Privacy
When a stranger lingers at on your porch, you don't want them looking into your house through a bare window or sheer curtain. When you have entry door sidelight window shutters, you canentirely obstruct the view right into your home's interior, preserving your privacy. Of course, when you need to look out, an effortless adjustment of the louvers will let you see outside.
Polywood® Shutters Offer Extraordinary Energy Savings
It's readily apparent that a cracked door can lead to energy loss, but you might not recognize how much heat can transfer through your windows. Your sidelight window shutters will help prevent heat loss. Sunburst's Polywood® plantation shutters are so good at keeping the inside temperature in your home that they can even earn you an energy tax credit as well!
Interior Shutters For Sidelight Windows Are Better For Families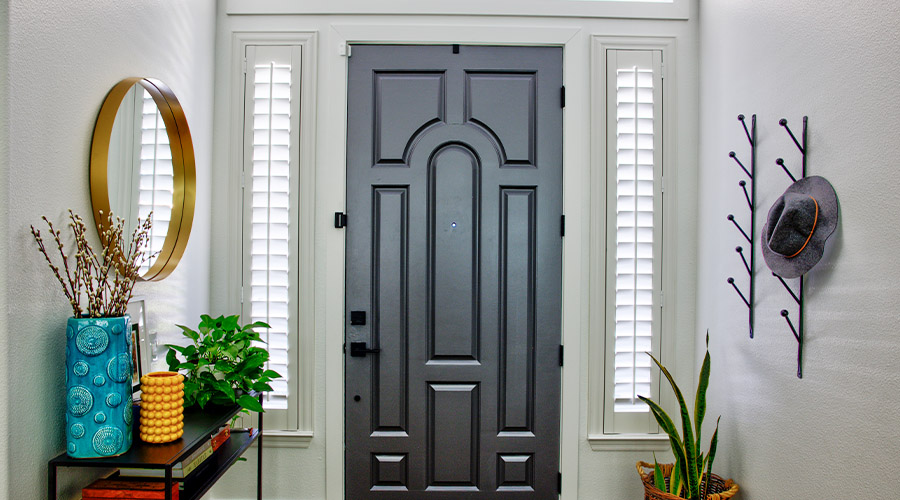 When a visitor comes up the driveway, your children and pets are probably scampering to your front door to look out the sidelights to see who has come. If you have flimsy blinds, they'll probably get knocked around and even bent. Other treatments can be pushed aside, making way for tiny handprints or pawprints on the glass. If you have plantation shutters for sidelight windows in San Diego, these issues won't happen. Instead, you'll enjoy a sturdy, durable solution that withstands rambunctious young ones. And they still allow for a view outside whenever you adjust the louvers.
Sidelight Window Shutters In San Diego Fit Windows Of All Shapes And Sizes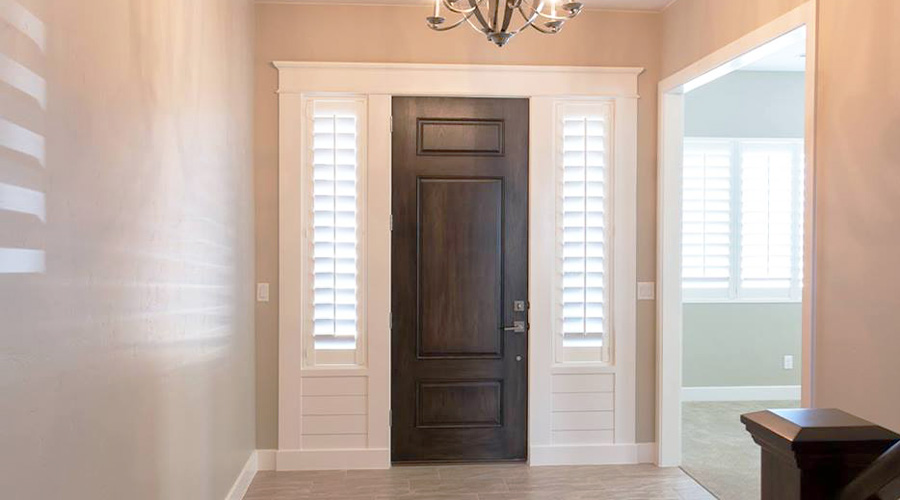 Hunting for blinds, drapes, or shades that fit correctly over sidelight windows is a challenge. Sidelights typically don't follow standard sizing and might be slim or wide like the door. A customized window treatment is your most sensible alternative, and that's exactly what you'll get with sidelight window shutters in San Diego from Sunburst. Our multi-functional solutions are always made to accommodate the specific measurements of any window.
Enjoy A Stylish, Uniform Look For Your Doorway
With sidelights matching your door, your house will possess a uniform and beautiful entryway. Fortunately, our sidelight window interior shutters are available in numerous paint and stain hues to seamlessly coordinate with your unique interior.
There's Always Space For Sidelight Window Shutters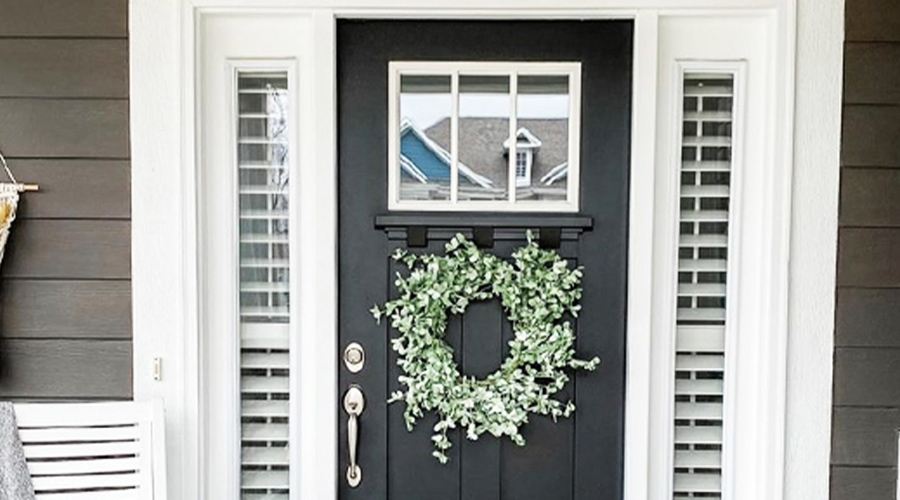 Some entryways might not have as much space around sidelights. If that sounds like your house, putting up a hanging treatment might not be ideal. Luckily, our sidelight window shutters are installed over the frame, so they can work and look gorgeous regardless of the surrounding area.
Our Sidelight Window Shutters Always Stay Secure
One of the best things about our sidelight window shutters is that you never have to wonder about them swaying, shifting or banging against the window. They always stay fixed in place. In contrast, blinds, shades, and drapes can be impacted by the vacuum effect that occurs when you come through the door. They will often sway, rattle, and might also get trapped in the door.
Frequently Asked Questions Concerning Sidelight Window Shutters In San Diego
Q: What sorts of shutters can be installed on sidelights?
A: Our Polywood® shutters, Ovation® natural wood shutters, reclaimed wood shutters, and Studio Shutters are all appropriate for sidelights.
Q: Can shutters be installed on the glass cutout in a door?
A: Yes! If there's a window cutout on your front door, we can include a custom shutter frame around it.
Q: Do sidelight window shutters always have to include a tilt rod?
A: Not always. We offer interior shutters with a "hidden" tilt rod, so the only parts you can see are those classic louvers.
Q: Can you create plantation shutters for sidelight windows to match the color of my door?
A: Yes! We can customize shutters in various wood stains and paint colors. We can come up with a solution for just about every door.
Learn More About Sidelight Window Plantation Shutters In San Diego
You can find out Sunburst's sidelight window interior shutters from the comfort of your San Diego home. Schedule a complimentary consultation, and an expert team member will come to you! You'll get to see how different products look before making [your final selection. Dial 760-405-8887 today or complete our simple form to get started.