Select Wood Blinds In San Diego For The Best In Hardwood Window Treatments

If you are searching for hardwood blinds in San Diego, you ought to install the best. Our wood blinds are crafted with furniture-grade real wood, which provides them with uncommon durability and appeal. Select from 24 stain and color possibilities, and then personalize your blinds with slat width, valence, and operating preferences.
Sunburst's wood blinds also stand up to day-to-day operation. Each treatment is carefully designed to your window's specific proportions, so they consistently install properly. The sturdy slats are then covered with a UV inhibitor that resists the harmful effects from harsh sunlight. Of course, no blinds are quite as tough as our interior shutters, but wood blinds work great in your living room, bedroom, and dining room.
Wood Blinds Options
Begin by picking the color or stain of your wood blinds. Take your pick of 24 brilliant designer finishes to mesh beautifully with your interior color palette or customize to the current hardwood flooring, furniture, or trim that is found in your home. Then harmonize your tassels, ladders, valences, and pull cord for a synchronized look.
Why Use Wood Blinds In San Diego
Wood blinds just might be the most effortless method to integrate a great-looking window treatment in your San Diego house. Once installed, you can move the horizontal slats via a pull cord or wand. There are many ways for using your blinds to manage light, from raising them to bring in the sun to keeping them down for privacy.
And unlike common aluminum products, your San Diego Sunburst's Wood blinds will not break down easily. With firm slats built from resilient hardwood, your slats will hold their shape without warping or breaking. Since your blinds are tailored to your exact window dimensions, your blinds will tilt gracefully and go up or down without banging the adjacent trim. As an alternative, if you need blinds for more humid rooms, try our faux-wood blinds.
Wood Blinds Warranty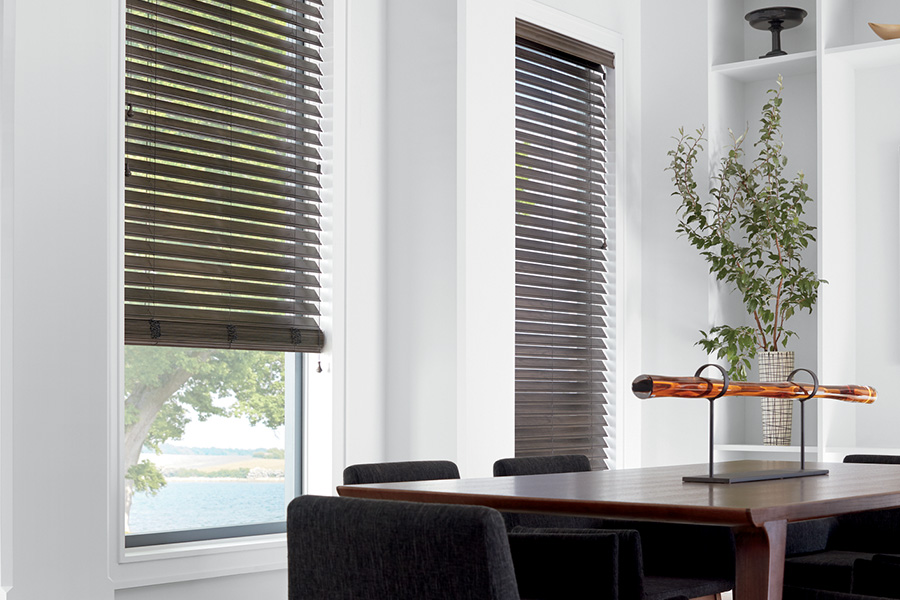 All blinds come with a 3-year warranty that protects you against any defects in construction (i.e., a deficiency in the product design, materials, or workmanship) for the original owner.
Wood Blinds Details
Call Now For Your Wood Blinds in San Diego
To discover all the benefits of wood blinds -- or any of our superb window treatments -- turn to Sunburst Shutters San Diego. We'll arrange a free in-home consultation to show you how our blinds, shutters, and shades will enhance your windows. Place a call to 760-405-8887 or fill out the form on this page today!