4 Window Treatment Ideas For Your Home Office In San Diego
When your home office has the right atmosphere, you are energized, yet relaxed, and can get work done. You might already own a wonderful desk and other furniture, but are your windows up to par?
Here are four window treatments for your home office in San Diego that will create the right environment for your office so that you can increase your productivity.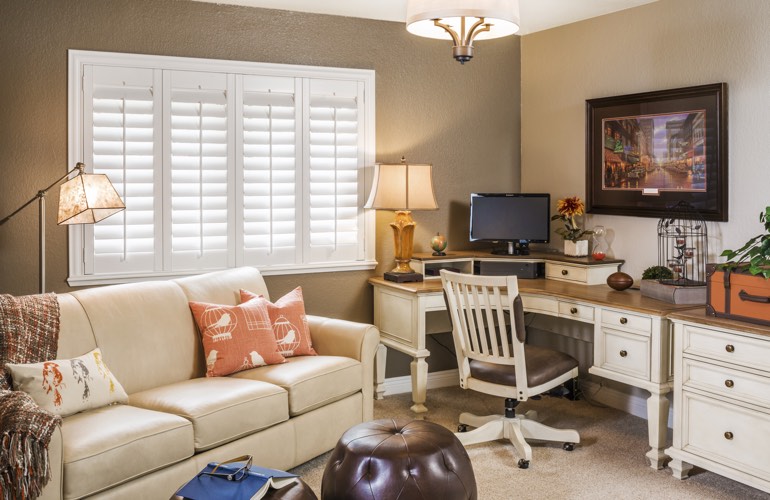 If you want a home office window treatment in San Diego that minimizes distractions, looks amazing with any décor, and is durable enough to last for decades, then plantation shutters are for you.
Our Polywood® plantation shutters let you get back to work by reducing distractions. They reduce outside noises and let you easily adjust the light. You simply adjust the louvers to switch from open shutters that bathe your room in to closed shutters that give you more privacy and decrease glare on your monitor.
Home offices that are colder or hotter than other rooms in your home aren't comfortable to be in. Polywood shutters moderate the temperature by decreasing the heat that transfers through your windows.
Plantation shutters don't only reduce distractions and regulate the temperature of the room. They help create a home office you want to spend time in. Plantation shutters have distinct lines that frame your windows, which brings together the room's décor. And these shutters can be installed on any shaped window - even octagonal and triangular windows. We offer several styles such as our faux wood Polywood shutters, our wooden Ovation® shutters, and reclaimed wood plantation shutters .
Our shutters are more than just beautiful. They're also durable. Polywood shutters will last for decades. So no matter how frequently you update your furniture, flooring, or paint colors, you won't have to redo your window treatment. Now, you can spend your time working and not decorating your windows.
Do you want a truly distinct look for your home office? Sliding barn door shutters give your office that touch of pizzazz that makes you want to be in your home office all the time. Pair them with our sliding doors for a smooth look. We offer a wide selection of paints, stains, styles, and hardware to give you customized barn door shutters for your home.
Simply slide open your barn door shutters when you want outside inspiration. Slide your shutters closed when you want more privacy or less light.
Open or closed, barn door shutters are a stunning piece of art that becomes your office's focal point.
Shades
Shades are a wonderful window treatment when you want a softer look in your home office. There are countless ways to customize your shades to make your home office a haven. Choose from styles such as cellular shades, Roman shades, woven woods, pleated shades, and more. Then decide on patterns, colors, and finial details.
Rooms with hard surfaces such as large windows or wooden floors bounce around a lot of sound. You can dampen the sound in these rooms with fabric shades. This is especially helpful for conference calls in your home office. If you need to block light, simply add privacy or room darkening liners to your shades.
Blinds
Blinds may seem like a great home office option for price-conscious homeowners in San Diego. While blinds still let you control the light in your office, they're not as resilient as plantation shutters. You'll find yourself replacing blinds more often, and they won't save on heating and cooling costs or dampen outside noise. In the long run, they're not as cost effective.
You have more options in blinds than just the flimsy white plastic blinds that break and turn dingy over time. Now you can choose from metal, vertical, faux wood and hardwood blinds to build the perfect atmosphere for your home office. You can even pick upgrades like cordless lift systems and motorization.
Choose Your Home Office Window Treatments Today
Now's the time to improve your productivity and brighten your home office by choosing new window treatments. Call our experienced professionals for a free in-home consultation. We'll bring samples of all the home office window treatments we carry in San Diego right to your house. If you want window treatments for other spaces in your house, we'll show you samples of those, too. Contact us at 760-405-8887 or fill out the form to schedule your in-home consultation today.