8 Uses for Reclaimed Wood in Your San Diego Home
This may surprise you, but reclaimed wood is finding all kinds of uses with San Diego people, who seem to love its natural look and how wonderfully it complements their home décor. It's proving to be a fashionable way of upgrading weathered wood and, at the same time unleashing your own distinctive style. Reclaimed wood products stand out whether it's part of a wall, your cabinets, or – yes! – your windows. Want some tips on using reclaimed wood successfully? We've gathered 8 top-notch ideas for you – all applied to gorgeous effect in San Diego homes.
1.Use Reclaimed Wood on Your Windows
For the first time ever, you can have reclaimed wood as a window treatment. Sunburst Shutters now offers a plantation shutter formed from the best possible reclaimed wood. As a matter of fact, Sunburst is the sole company offering you reclaimed wood shutters in the San Diego area. We found the reclaimed wood you love and used it to engineer a louvered shutter that's not only beautiful but functional.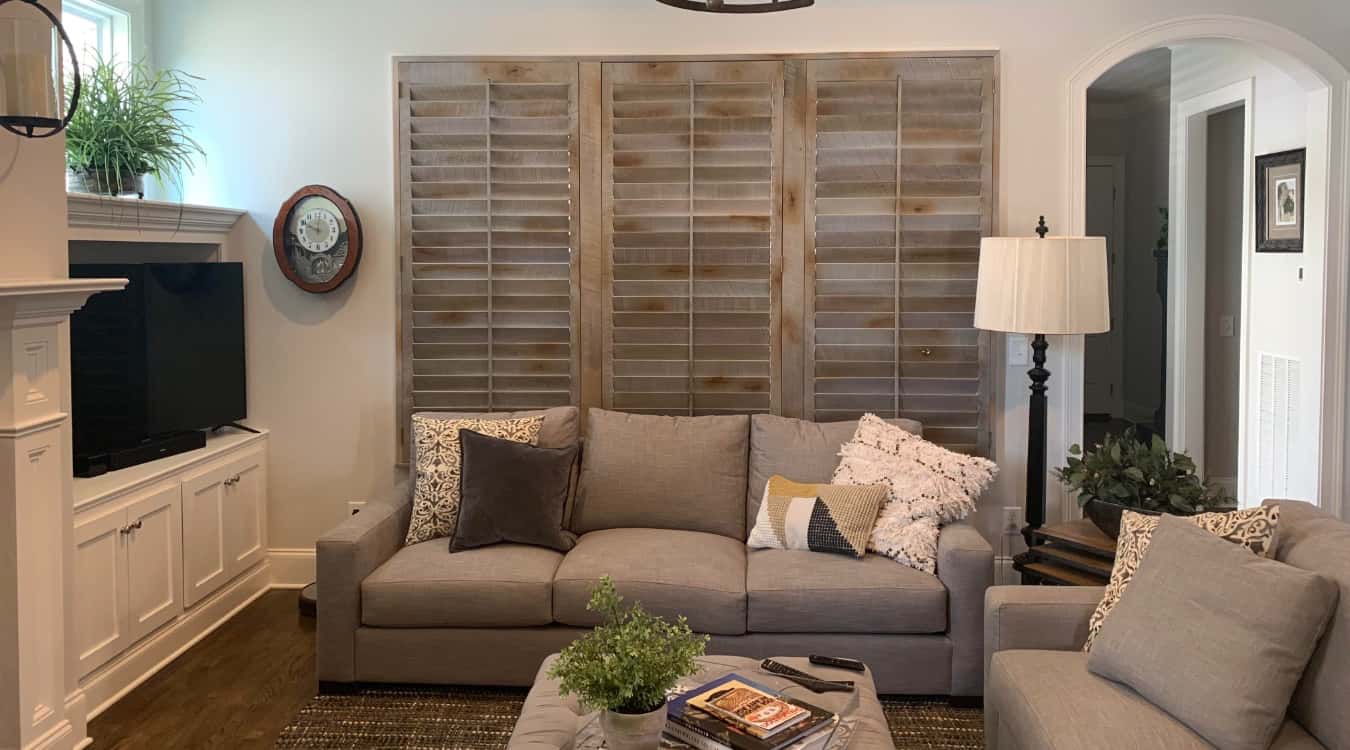 Reclaimed wood can provide a truly exceptional window treatment. It helps, of course, when your reclaimed wood shutters are artistic accomplishments in their own right. And Sunburst sees to it they are. You'll be thrilled by their smooth, simple operation as well as their appearance. Tilt the louvers open to brighten up the room's interior. And tilt them closed to enjoy fully the weathered look of reclaimed wood on your window. Don't just take our word for it, though. There's so much more to learn about reclaimed wood for windows in San Diego. See what's out there!
2. Reclaimed Wood for Your Wall
If it's excitement you want in your home, reclaimed wood will provide it as few other décor choices do. Reclaimed wood paneling turns your wall into a quiet but compelling showpiece and adds a cozy atmosphere to the room. No matter if you have a bookcase, fireplace, artwork, or TV you want to show off, a reclaimed wood wall will look beautiful behind it and create just the effect you'd hoped for.
3. Used Reclaimed Wood for Floors
Looking to redo a floor in your house? Wood flooring of just about any type can add warmth and coziness to a room, but flooring of reclaimed wood has an unparalleled beauty reflective of the time – generally decades – the wood has remained outdoors. No matter if you're a bona fide nature lover or someone who's simply drawn to the look of weathered wood, you'll be thrilled with what a reclaimed wood floor can do to enhance your home.
4. Use Reclaimed Wood in Cabinets
This is the perfect time to give your kitchen cabinets a makeover with reclaimed wood. It's the natural way to dress up your whole kitchen. Each panel of reclaimed wood relates a compelling story – of considerable time hidden away in an old building, perhaps, or in the crumbling structure of a barn or fence. And something of that story will endure in your reclaimed wood cabinets, crossing your mind whenever you reach into them.
5. Reclaimed Wood for Tables
Tabletops made or consisting of reclaimed wood can impart a modern, emphatically different ambiance to your dining room or home office. Unite the subtle, natural hues of reclaimed wood with your décor for a harmonious look that comforts you – while it "wows" your guests!
6. Bookcases of Reclaimed Wood
However else we may regard them, books make wonderful decorative pieces. Arrange a book or selection of books on a coffee table or end table, on a bookshelf, or in a big bookcase, and they're sure to capture the attention of guests. Their agreeable variety is both accentuated and brought together in bookcases of natural wood, too. And bookcases of reclaimed wood, due to their natural colors, knots, holes, scratches, and other traits, provide an especially attention-getting, one-of-a-kind furnishing.
7. Reclaimed Wood and Picture Frames
The rustic, natural look of reclaimed wood is ideal for picture frames. It's just what's needed to show off your favorite artwork and personal photos in a uniquely eye-catching manner. What's equally noteworthy that frames of reclaimed wood can be assembled in a plethora of styles, thus they'll harmonize with practically any interior design.
8. Reclaimed Wood for a Headboard
Not much can upgrade the ambiance of a bedroom like a smartly designed and constructed headboard. Today, when renovating, people are just as likely to rig a headboard to the wall behind their bed as they are to attach one directly to the bed itself. Whichever way works best for you, a headboard consisting of reclaimed wood planking can be especially gorgeous. It's natural hues and weathered features lend themselves to a seemingly infinite number of styles, from antique to modern. With reclaimed wood, you can loosen up your design sense to create the headboard you've dreamed about!
Find Your Inspiration in Reclaimed Wood
Our goal was to inspire you with these 8 ideas for making use of reclaimed wood. That said, we have even more ideas for you – ideas that beautifully complement the reclaimed wood shutters we alone provide in San Diego. Our team would be pleased to show you samples of our shutters, answer your questions, and provide you with a range of other superb design ideas. Contact us at 760-405-8887 to schedule your free in-home design consultation at your first opportunity!