Choosing the Best Great Room Window Coverings in San Diego
Contemporary home design is all about functionality. More than ever, homeowners in San Diego are adopting the design philosophy that each element of your home should not only look great, it should serve a function as well. And if it can serve more than one purpose, even better! That's why great rooms have become a more common fixture in homes, acting as a combination of a family room, dining room, living room, and more.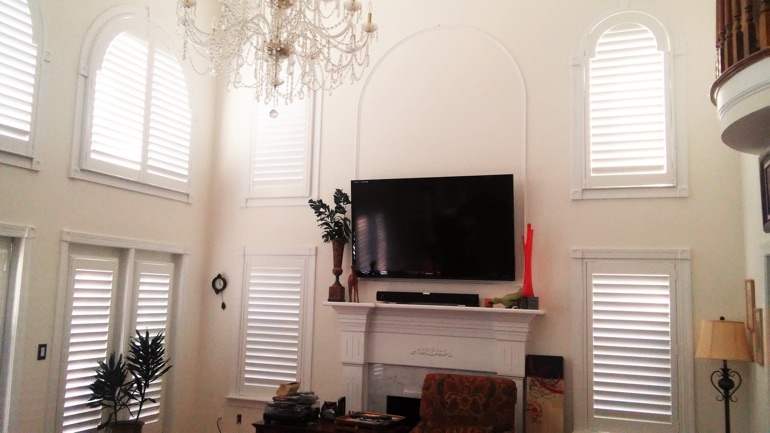 A useful, multi-purpose room should have those same qualities in its window coverings. So let's learn how to find the optimal window treatment for your great room, San Diego.
Great Room Window Treatment Needs
Light Control - Great rooms are usually the biggest room in the home, which means that they usually have the largest windows. That means it's important to have control over the amount of light that comes into your home so you can ignore the outdoor weather when setting your perfect mood.
Energy Efficiency - As with light, those oversized great room windows tend to let heat in and out fairly easily. A window treatment that impedes energy loss can go a long way to enhancing your comfort and slashing your monthly bills.
Looks - Because great rooms serve a lot of functions, it's most likely going to be the room guests see more than any other. Leave a long-term impression with a stunning window covering that accomplishes the above mentioned functions as well.
Ease of Use - Many great rooms are in open-concept, multiple story homes, which can mean tall windows that are harder to operate. The ability to open and shut your window treatments easily and quickly makes for a more functional space.
So now that we have our list of "must-haves," which window coverings fulfill these needs?
Plantation Shutters for Great Room Windows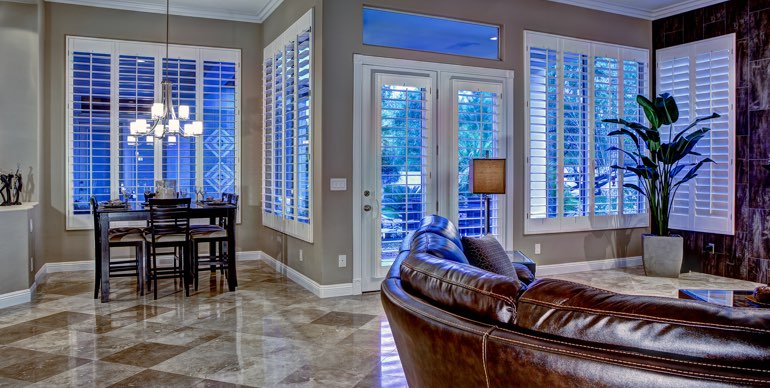 Check, check, check, and check–plantation shutters pass our criteria easily. Plantation shutters give you the most effective light control, with the adjustable louvers which can be set completely shut, open and any angle in the middle. In addition, they offer some of the most effective thermal protection available to your windows, and you're left with an energy efficient window treatment which can reduce energy transfer by 45.96%.
And if your windows sit high on the wall or are very tall, plantation shutters are still easy to use, with the use of an adjustment pole that stretches out and collapses in and can give you easy access to the tilt rod.
Finally, plantation shutters give you all this practicality with the looks that are sure to impress any guest. Very few furnishings can offer the same touch of casual elegance to a home as shutters.
Other Great Room Window Treatments
Although plantation shutters are the first recommendation for achieving all your great rooms' needs, there are a couple of other options that can aid your home in many of those categories.
Cellular Shades - Cellular (AKA "honeycomb") shades can offer some dimming capabilities and decent energy efficiency, all while offering a range of colors to choose from to accentuate your space. If you pick motorized shades, they can also be put on out of reach windows for easy operation.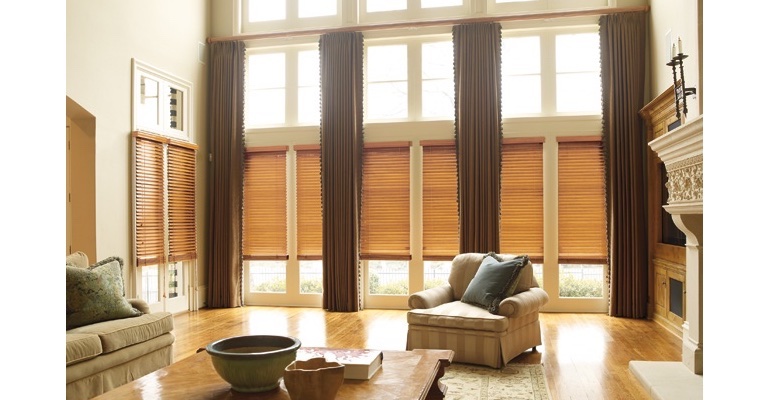 Draperies - Wall-to-wall draperies in a San Diego great room can be a stunning addition to your interior design. Drapes are fairly easy to draw and close while giving you tight light control, depending on the material. Drapes' heat-blocking ability is where they lack though, so they're fairly weak in the energy efficiency category. Therefore, it's common to see Polywood shutters paired with draperies.
Greatness Awaits Your Great Room, San Diego
Our team wants to make sure your great room is as great at is can be, so let's work together. Call us at
760-405-8887
today to schedule your complimentary home design appointment. We'll measure your windows, and walk you through all the best options for fantastic great room window treatments.