Farewell Outdated Window Treatments For Entry Door Sidelights In San Diego, CA!
Your entry door is the first impression a guest has of your San Diego home when they land on the doormat. The sidelights on the sides enhance the elegance of the entry door. But, they take away from your privacy. Say hello to window shutters. These window coverings are the ideal choice for your entry door sidelights.
Many San Diego residents chose classic window treatments for sidelights, including blinds and shades. But there's a more modern alternative: entry door sidelight shutters.
Entry Door Sidelight Blinds & Shades
Blinds and shades may be the first window treatments you think of when you consider sidelights. They're sold in hardware stores in sizes close to those of your entry door sidelights. And youhave a grasp on how to install them and operate them.
But sidelight shades and blinds include a handful of considerations to keep in mind before buying them. First, they're likely to sway every time the door is open or shut, when the wind bounces the strips against the glass. This results in irritating noise. A fix is to tie them down at the bottom. But this might change the appearance and may not reduce the noise. Second, these window treatments provide privacy but come up short in temperature control. The thin material fails to insulate against the outside temperature - hot or cold. And third, shades and blinds don't have the personalized touch that impresses your guests as they come through the front door. Plantation shutters do.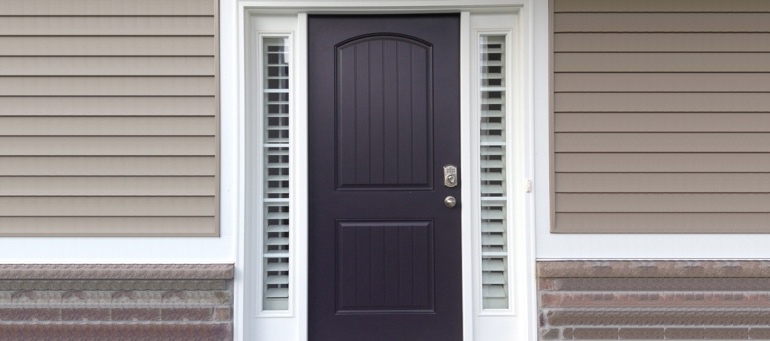 Plantation shutters
are the modernized window treatment you've been shopping for in San Diego. Built from basswood or wood polymer, shutters for entry door sidelights are mounted on the door frame while letting the louvers move freely. This means opening and closing the entry door does not make any noise.
Closed entirely, plantation shutters offer
complete temperature control and privacy
. Simply adjust the louvers by shifting the tilt rod to see more of the light and the view. And
Polywood®
plantation shutters louvers block 30° of temperature and lessen airflow by up to 45%.
The elegance of plantation shutters for sidelights goes beyond the energy savings. With a wide selection of louver sizes, frame styles, wood stains, and a paint matching program, you finally have the contemporary look you've been looking for. Our specialists help you in picking custom window shutters for your entry sidelights. And we'll mount them to fit your sidelights perfectly.
Get Entry Door Sidelight Shutters For Your San Diego Home
Ready to get rid of you traditional window treatments and get shutters for entry door sidelights? And if you want the same type of shutters for your
French doors
or
patio door
, we offer those as well. Call
760-405-8887
or fill out the form below to schedule your free in-home design consultation today!