Great Nursery Window Treatment Ideas In San Diego
If you're expecting a child in San Diego, you want to make sure every element of your little one's nursery just right -- including the window treatments. But before you pick out any window covering, keep in mind that functionality and safety are important. Newborns may yank down drapes or get caught in corded blinds. These treatments won't stop sunlight and drafting for the best sleeping environment either. As an alternative, choose safety-focused, efficient interior shutters or cellular shades as window treatments for your nursery in San Diego.
Plantation Shutters Keep Your Nursery Stylish, Safe, And Cozy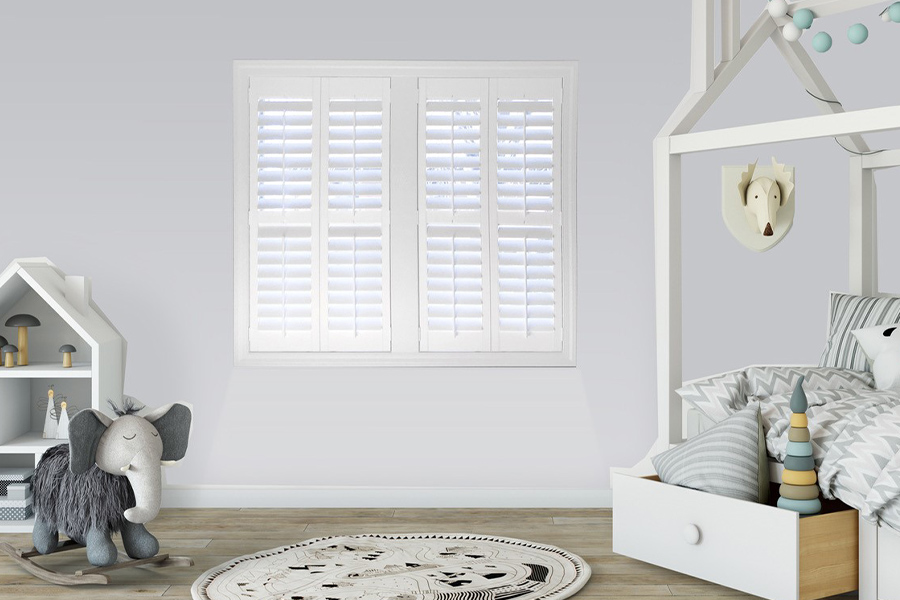 Plantation shutters maybe aren't at the top of your list of nursery window treatment ideas in San Diego, but they should be! These superior window treatments look stunning in any area. Their louvered panels offer an appealing accompaniment to the softer furnishings usually associated with a nursery. You can utilize
white faux wood Polywood® shutters
in rooms with vibrant or lighter-toned color schemes. Wood-stained shutters might work better in the event your nursery has nature-themed components or you wish to harmonize with existing wood trim. And if you update the style as your loved one gets bigger, your shutters will continue to work well with the area's refreshed look.
Plantation shutters utilize a unique construction that makes them suitable for children's bedrooms. Instead of using drapes or pull cords for a baby or toddler to grasp on or become entangled with, interior shutters utilize solid panels with rows of louvers integrated into a frame that surrounds the window. They even wipe off easily when they inevitably get smudges from tiny hands.
Shutter slats and panels offer several ways for adjusting exterior light and privacy in your child's space too. Pull back the panels for a sun-filled play area or secure them and turn the louvers up to let in partial sunshine and shift it toward the floor where your child spends time. Then secure everything to keep out virtually all light for bedtime and naps.
Closed louvered shutters stop drafts as well. Air won't go through solid wood and faux wood as it will through cloth window treatments. And exceptional Ovation® and Polywood shutters employ industry leading workmanship to diminish gaps where air could slide through. Polywood shutters also feature weatherstripping that causes them to be the most energy-efficient nursery window treatments in San Diego and makes sure your room is always cozy for a pleasant slumber.
Cellular Shades Lend Energy Efficiency and Versatility To Nursery Windows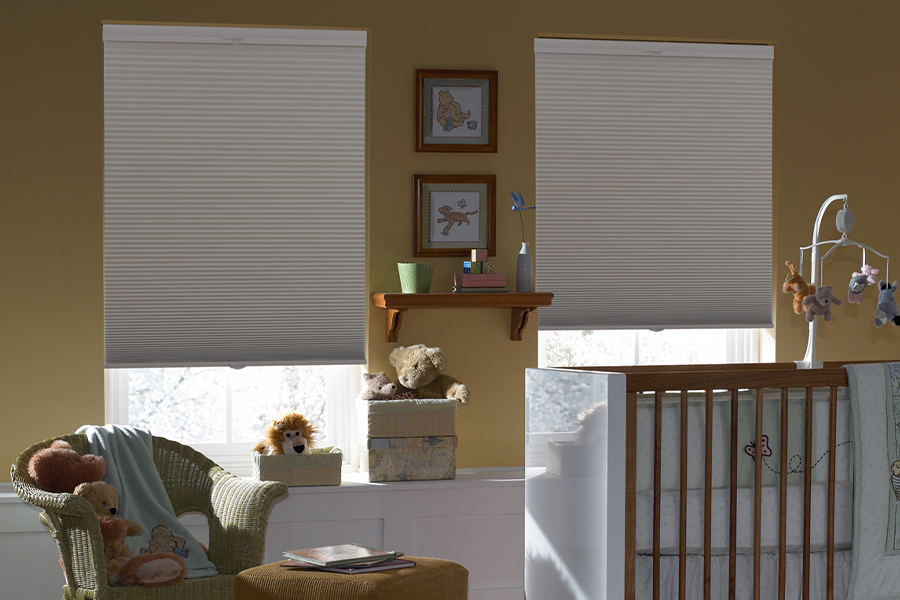 If you prefer a softer option for your nursery window treatments,
choose cellular shades.
These window shades come in many different colors, patterns, and materials for you to choose from. You'll even find other kinds like top-down/bottom-up shades that offer more flexibility with sunshine and privacy or cord-free shades that your little one won't get tangled in.
The leading benefit of cellular shades is their energy efficiency. Their unique design features little compartments that confine air going through your windows before it enters the nursery. They aid in keeping the the space at a pleasant temperature and utility bills down.
Would You Like More Nursery Window Treatment Ideas In San Diego? Speak With Sunburst
Whether you need nursery window treatment ideas in San Diego or choices for another part of your interior, Sunburst Shutters San Diego has the answer. We supply a variety of window products that make your property more attractive and comfortable. Contact us at 760-405-8887 or submit the following form to arrange a complimentary in-home consultation and explore outstanding window treatments in San Diego.