The Best Window Treatments For California And San Diego
California has all sorts of climates. Rocky deserts, ski-worthy mountains, sandy beaches--you have your pick across the state. With so much difference in conditions, what are the best window treatments for California homes? Versatile plantation shutters, stunning woven shades, and chic zebra shades all work well in most home styles in California and San Diego.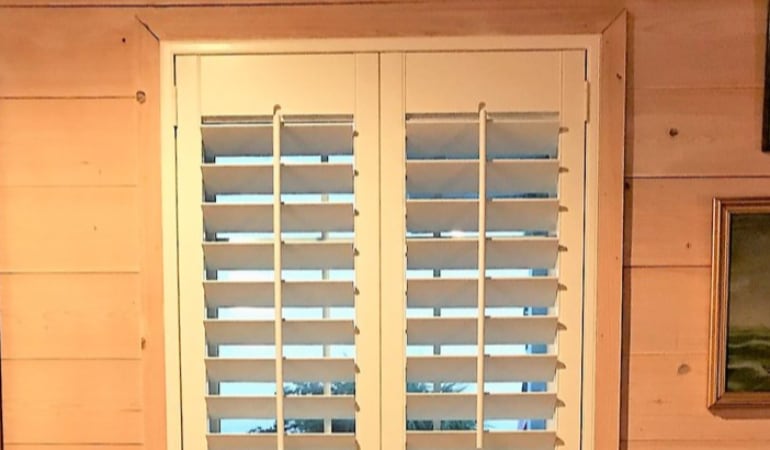 Plantation Shutters Have Many Perks of Window Treatments For California and San Diego
Plantation shutters perform better than other window treatments in California and San Diego. The shutters' thin louvers bring both style and functionality to your rooms. When closed, plantation shutters keep your San Diego home comfortable from heat loss and humidity. You can also angle the louvers to stop sun glare. Or to get an unfettered window, you can swing the panels open completely. Then snap close the panels and louvers to block your home for total privacy.
If you have any specialty windows, custom-crafted plantation shutters fit every shape and size. Install them on oversized windows in contemporary homes, curved Mediterranean-style windows, or round gable windows in a San Diego bungalow. Their iconic style and classic colors blend seamlessly into any interior. White Polywood® shutters look great in beachy or minimalist decor. Or install stained hardwood shutters if your home has a more rustic look.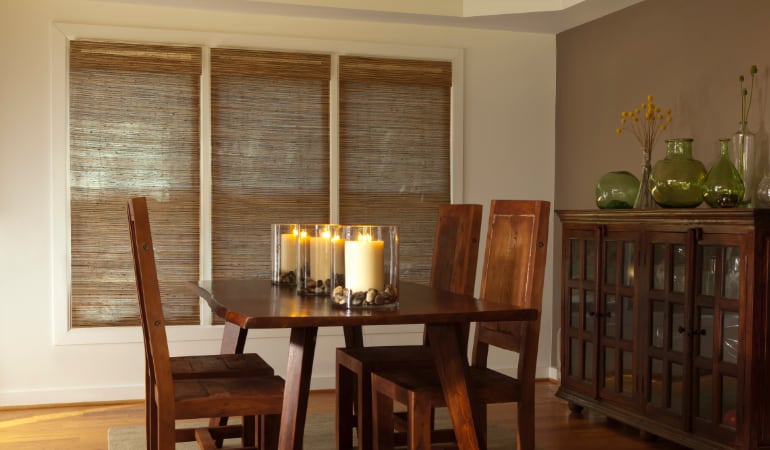 Natural Woven Shades Filter The California and San Diego Sun
California has many appealing styles of architecture. One type of window treatment for California and San Diego houses that complements these styles is a natural woven shade. Made of woven wood and plant fibers, this shade comes in a diverse array of textures and natural colors to elevate your decor.
Living in San Diego, you can use woven shades to bring a touch of nature into your home. You'll always see that California sun with woven shades. They filter natural light through the weave and lets it dance across your room in Mediterranean and green contemporary houses. Or complement your suburban ranch with its organic beauty.
If you're worried about woven shades being too sheer, some styles come with an interior liner so that you can hang them in more private areas. For the eco-consciousperson, use sustainable bamboo shades for eco-friendly elegance in every room.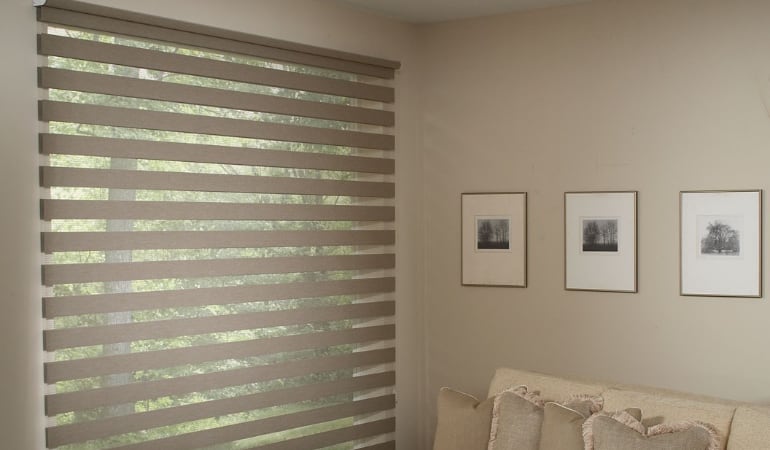 Zebra Shades Give You Control Over Sunlight And Privacy In San Diego
One of the many benefits of staying in California is the sunshine. But sunlight is something that you will have to contend with too. You can direct that light with innovative zebra shades.
Zebra shades, or transitional shades, have staggered "stripes'' of solid and sheer material. This fabric hangs in a loop that can be slid to match up the sheer stripes with solid panels behind them when you want light blockage or sheer on sheer to let the light through. You can also pull them up for full light like other shades.
Zebra shades have a nice, flat look that fits contemporary California homes perfectly. However, their opaque colors and simple lines make them suitable for any home and decor when you need some light control options. Put zebra shades on ground-floor windows to help bring light into open floor plans when the sun is out, and adjust them at night for privacy. Or install them on bedroom windows in any style home for filtered daylight and still get needed privacy.
Get Window Treatments For Your San Diego Home At Sunburst
You'll find wonderful window treatments for your home at Sunburst Shutters. Our reps help you figure out your needs and explain the best options for your San Diego house. For a no-cost in-home consultation, phone 760-405-8887 or fill out the form below.