What Are The Best Window Treatments For Over The Kitchen Sink In San Diego?
When you're shopping for window treatments, don't overlook the kitchen -- starting with the one above the sink. If you harbor reservations about the constant spattering of food and water ruining a window treatment over the kitchen sink in your San Diego home, use Polywood® plantation shutters. These products add appeal to any space but are known to withstand the moisture and heat of the kitchen.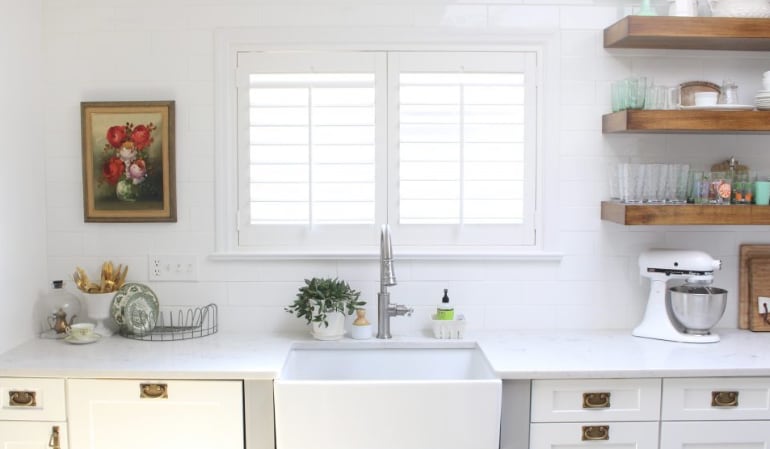 Dazzling Faux-Wood Shutters Bring Appeal To All San Diego Kitchens
Window treatments over your kitchen sink in San Diego need to be practical and long-lasting. However, you can still get treatments with elegance when you install trendy faux wood Polywood plantation shutters.
Polywood shutters blend in effortlessly with all types of kitchens. They come in in several shades of white that harmonize well with kitchen appliances and finishes, and their solid panels of adjustable louvers counteract nicely with the smooth surfaces of your kitchen. Interior shutters add a unique sense of style to both extravagant and simplistic kitchens and all spaces between.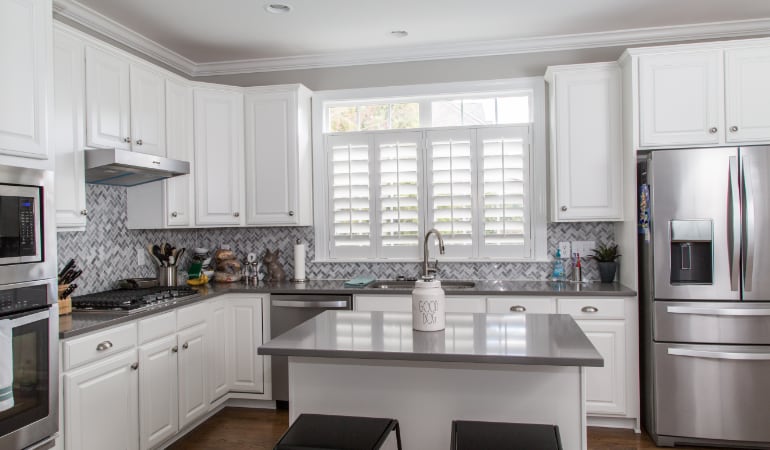 Polywood Shutters Are Resistant To Heat And Water
Have you ever seen water droplets along the window glass when you're trying to boil water or wash dishes? That moisture clings to window treatments over your San Diego kitchen sink, where it will deteriorate fabric shades or curtains over time.
Hang Polywood plantation shutters instead. Their wood substitute and resilient coating are resistant to a moist and steamy environment. In fact, these products are totally watertight. You will never find warping, splitting, or chipping from the humidity in your kitchen.
Natural sunlight and outdoor conditions will have no influence over your Polywood shutters. On your kitchen window, your shutters are faced with chilly drafts and powerful UV rays. These long-lasting shutters will not deteriorate from excessive interior heat or frigid outdoor temps, nor will they suffer from fading due to high levels of sunshine.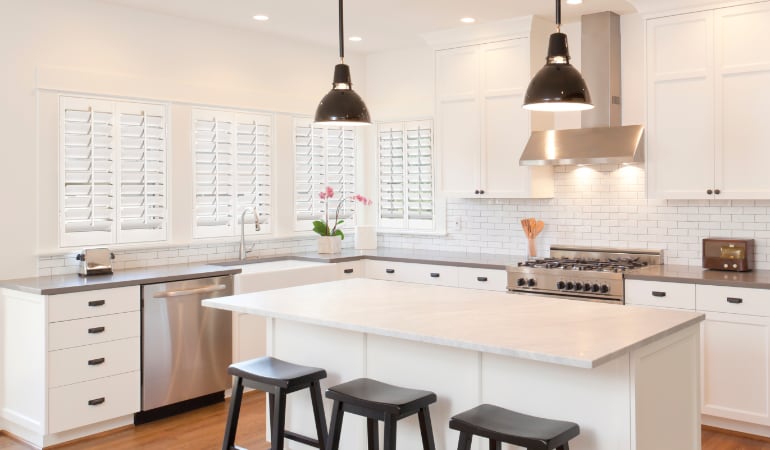 Window Treatments That Allow the Perfect Amount of Natural Light
Getting enough light is critical in your San Diego kitchen. You don't want to cut or burn yourself because you're struggling to see what you're doing! These unique shutters provide the amount of light you want and are a cinch to adjust. Just swing open the panels or use the tilt rod to move the louvers up and down. You don't have to worry about cords that always get tangled or an inconvenient pull bar that is hard to grab on to when you need to alter the light levels.
When looking for a flood of sunlight, swing the panels open wide. If the sun is blinding, swing the panels back shut and move the tilt bar for softer light. Or use the louvers to eliminate unwanted glare within your space. If you want to avoid curious observers looking into your kitchen at night, close everything tightly for total privacy.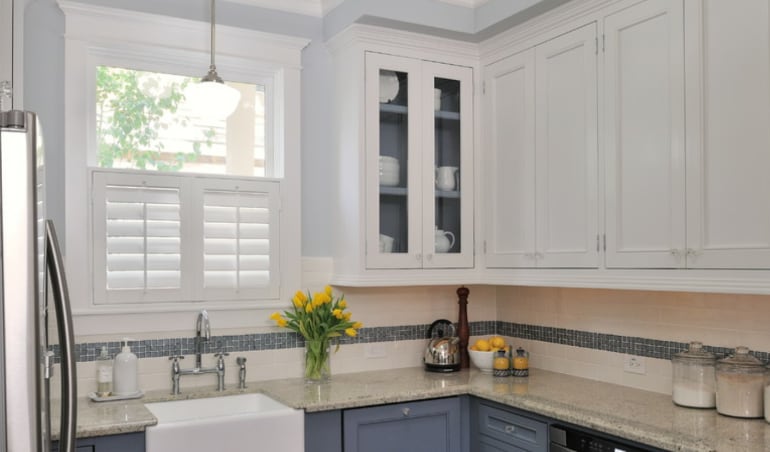 Polywood Shutters Are Simple To Clean
Kitchens can be dirty with an abundance of grease, crumbs, and dust. The window treatment over your San Diego kitchen sink should offer ease of cleaning. When taking this into consideration Polywood shutters are perfect on a kitchen window. Their hard, smooth finish doesn't stain or hold odors like cloth alternatives. They just need a quick dusting or wipe with a damp cloth, and they'll look new again.
You don't have to waste time awkwardly moving your duster between the louvers as you do with flimsy blinds. Plantation shutter slats are durable, and you can customize with wider options that create large openings for you to reach through with your cloth.
Purchase The Best Window Treatments For Over Your Kitchen Sink In San Diego At Sunburst Shutters San Diego
Sunburst Shutters San Diego offers exceptional window treatments for each window in your house -- even the one above your sink. Confer with our specialists about what you envision for your windows, and we will help you find the perfect option. Reach out to us at 760-405-8887 or complete our online form to get started.