How To Differentiate Between Plantation Shutters, Window Blinds, And Window Shades In San Diego
Blinds, Shutters, and shades–oh my! The range of different window treatments out there can seem too much if you have to pick one for your San Diego property. Knowing how to differentiate between each kind will assist you in deciding which ones will function and look best on the windows you are covering. We can help by exploring the advantages, drawbacks, and top spots for louvered shutters, window blinds, and window shades in San Diego.
The Pros And Cons Of Plantation Shutters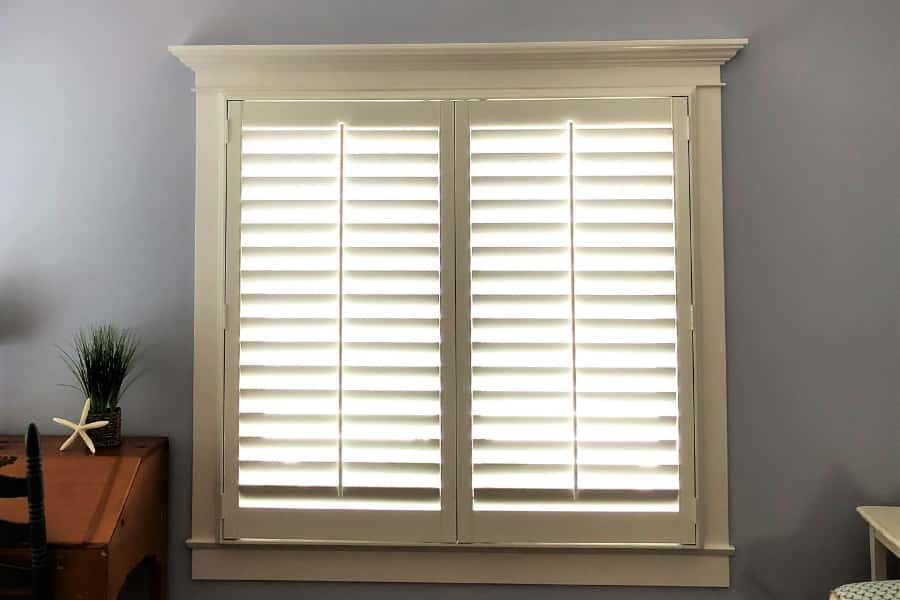 Plantation shutters are made of real wood or a wood synthetic and go inside your home where they secure permanently to your window with a shutter frame built around the window frame. Movable panels on the inside of the frame smoothly glide open for complete light and view or fasten securely to cover your window for a dark, private interior. If the panels are secured, you may also tilt open the slats for partial light and shift them to redirect light where it needs to go.
The Pros
Plantation shutters rise above other window treatments because of their unique design. They not only look quite different but offer many amazing bonuses for San Diego properties:

Elevate your home with beautiful architectural style

Find them in neutral colors to match your decor now and in the future if you redecorate

Give You total privacy and nearly eliminates all light when secured

Open quickly for sunshine and views to your property

Work with any specialty shaped window like arches and angles

Move unwanted glare with the louvers

Simple to dust and clean

Provide superior energy efficiency

A permanent feature that adds to your San Diego property's value

A range of customizable options to design the style you want and meet your specific requirements
Along with these pros, faux-wood Polywood® shutters come with their own notable benefits:
Unmatched durability with resistance to harm that comes with heat, cold, humidity, and the sun's rays

Will never be impacted by warping, splitting, or chipping

Patented weather protection for exceptional efficiency and money savings
Generally, Polywood shutters can do any job you need a window covering to do, from elevating your window's appearance to stopping cold breezes and destructive sun rays. They also work and look just as superb decades later as the day you have them installed.
The Cons
Interior shutters' single downside is that they can only be found in neutral colors. Even though their classic hues match all kinds of style choices, you'll be required to settle for window shades or blinds in San Diego if you are determined to install window treatments with patterns or bold colors.
How To Utilize Louvered Shutters
You can incorporate plantation shutters on any window in your San Diego property. Custom shutters work with any type, size, and shape of window without losing functionality. Put them on circular, angled, and French door windows just as simply as regular rectangular windows.
You may also install Polywood shutters in any room. Pick them for their durability and energy efficiency in damp bathrooms, cold attic dormers, or sun-splashed south-facing rooms. Shutters also make sense in heavily occupied places and little ones' rooms since they don't have cords that present a safety threat.
The Pros And Cons Of Window Shades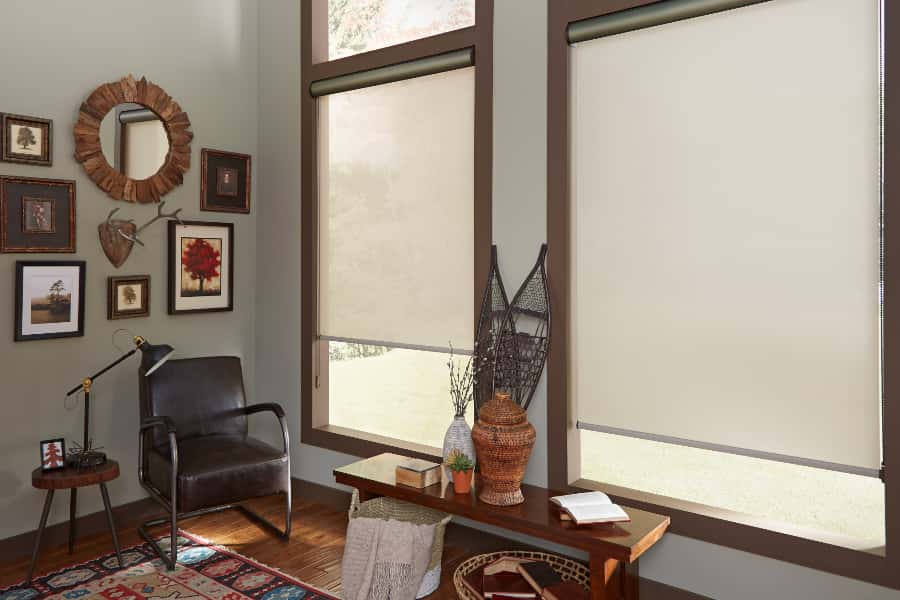 Window shades come in a range of different styles, but, by and large, all consist of a sheet of fabric hung over your window. You typically pull the material in the direction you want to shield and unshield your window using a cord or pull bar, although you will also locate motorized shades as well.
Window shades don't use slats to control light and privacy, but sheer or more freely woven fiber shades will allow light into darkened rooms while blocking views into your interior. Or you can consider top-down/bottom-up shades that give you the chance to reveal the upper region of your window for sunshine while protecting your privacy below.
The Pros
San Diego residents like window shades mainly because they are available in a range of styles, colors, and materials. You'll discover shades with common colors and bright tones, solid color or eye-catching patterns, transparent or blackout types, fabric with pleats or fibrous materials, and numerous additional choices. If you want a stylish focal point when redesigning a space, window shades in the ideal color or fabric can enhance your overall design and shield your windows.
Individual window shade styles have their own benefits as well. Roller shades have a sleek feel. Cellular shades offer energy efficiency. Tumble shades are nice additions to glass doors. And sheer shades give you a pleasant blend of privacy and sunlight.
The Cons
Window shades don't last as long as solid window treatments and may be challenging to clean. Their soft materials will eventually blemish due to the sun or might tear, become moldy, or get stained. You should anticipate replacing window shades every three or four years as they wear out or you alter your interior design.
Window shades also offer less capability in adjusting sunlight and privacy than louvered shutters. Even pulling them up a bit means you forgo your privacy on half of the window and you're not able to change how light enters at the bottom. And many window shades will show your shadow when your interior is illuminated during the night. And square window shades in San Diego compel you to choose between masking a specialty window's unique shape or keeping the window exposed permanently.
How To Incorporate Window Shades
Most San Diego property owners opt for window shades because they prefer bold or patterned window treatments to blend with their design. They are best suited for less occupied areas where they won't wear as quickly from persistent use.
You are also able to utilize some types of window shades for their specific purposes. Select cellular shades to aid in halting cool air from entering. Slim roller shades work in spots where you don't want a bulkier window treatment. Blackout shades stop sunlight for better sleep. Woven fiber shades incorporate a natural element to your property. And remember, custom shades will unquestionably have more appeal and function more reliably on your windows than off-the-shelf shades.
The Pros And Cons Of Window Blinds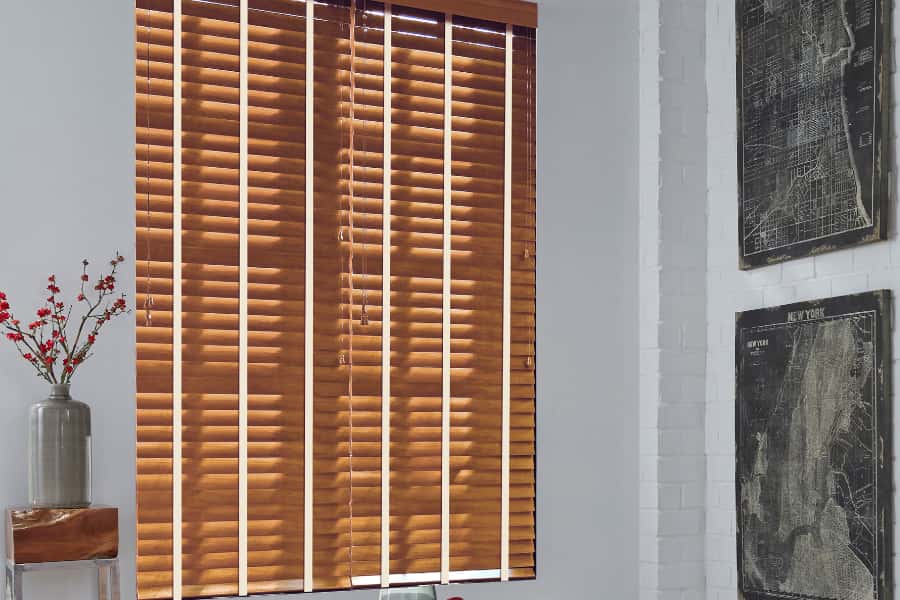 Window blinds feature a row of long slats built from a rigid material that you lower over your windows to conceal them. Blinds function with pull cords or cordless lifting mechanisms. As well as shielding windows with blinds, you can also turn the slats open or closed with a wand for extra control over exterior light.
The Pros
The advantages of window blinds are dependent on what they're made of. In theory, all blinds cover windows to impede sunlight and the view inside your San Diego residence, but their type of material and construction determine how successfully they do this. You may observe sun and silhouettes with low-grade vinyl blinds. Metal and vinyl blinds also bow and snap easily, which creates unsightly openings that let in sunlight. For these blinds, their bargain pricing and lack of durability make them beneficial primarily as temporary window treatments.
More resilient natural wood and faux-wood blinds utilize stronger slats that envelop windows more completely. You won't see through them, and they don't fall apart quickly. The natural wood and composite components, joined with the pleasant straight edges of the slats, look more sophisticated as well. Premium natural wood and faux-wood blinds can be found in classic neutral colors that work well in any room.
Blinds let you control the quantity of light that enters through your windows. You are able to move them up for an unrestricted view and complete sunshine or guide them down for privacy and darkness. With the blinds closed, you may also turn the slats for a restricted view and some sunlight.
The Cons
Wood and faux-wood blinds look similar to interior shutters but aren't as long-lasting. The cords that hold the slats together will fray over the long haul, and wood slats could become misshapen and crack from an abundance of humid air or drastic temperature fluctuations. Blinds also include a great deal of elements that will result in them being a challenge to clean, and the common pull cords might get twisted up as you make an effort to manipulate them.
Even though custom blinds will suit your windows in terms of size, they don't have the complete protection around the perimeter that shutters do because they aren't built into a frame. You'll also notice that both window blinds and shades in San Diego will sway and knock against your window if run into or caught in a gust of air. That movement opens a sightline to your interior and permits light.
How To Utilize Window Blinds
High-end blinds are a great choice in any area on square or rectangle windows. Only install waterproof faux-wood blinds in high-humidity spaces like baths and kitchens. And cordless or motorized blinds provide safer choices in the event you have children or animals.
Sunburst Has An Incredible Selection From Interior Shutters To Window Blinds And Shades In San Diego
Would you like to know more about the differences between louvered shutters, window shades, and window blinds in San Diego? Sunburst Shutters San Diego boasts the most incredible assortment of high-end window treatments in the area and can answer all of your questions. We offer no-charge in-home consultations to exhibit our choices and give you a chance to decide which window treatments look best in your property. Schedule yours by dialing 760-405-8887 or submitting the form below.